Here's where tech's biggest players are building Austin offices
FEBRUARY 15, 2020
Is there an unofficial race taking place among national tech giants to see who can take up the most real estate in Austin? Likely no, but it sure seems that way.
Facebook, Google, Apple, Amazon, WeWork and Expedia Group have all made headlines recently for official — and rumored — growth plans within Austin. Here's where you can expect to see big-time expansions.
MAJOR TECH COMPANIES WITH OFFICES IN AUSTIN
Expedia Group
Facebook
Google
Amazon
Apple
WeWork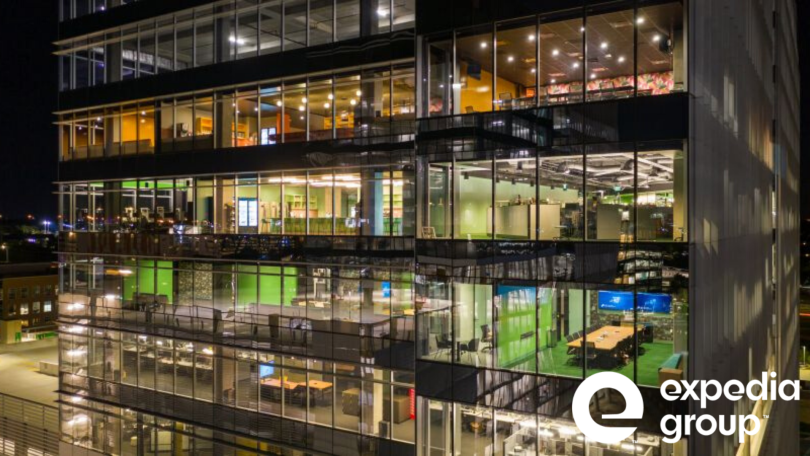 IMAGE VIA EXPEDIA GROUP

Location: Alterra Parkway, The Domain
Hometown favorite Expedia Group continues to swell and is patiently awaiting completion of construction for its latest office at The Domain. Once construction is finished, Expedia Group will take over all 16 floors of the Domain 11 tower, which will host its new global headquarters and have room for up to 2,000 employees.
Since its 2005 launch, Expedia Group has opened five Austin offices for its 1,700ish employees. With the impending move, current office locations could change, but the company did confirm it will continue to operate in downtown, South and North Austin.
Expedia Group is Hiring | View 19 Jobs
RELATED
The Top Austin Tech Companies Hiring Now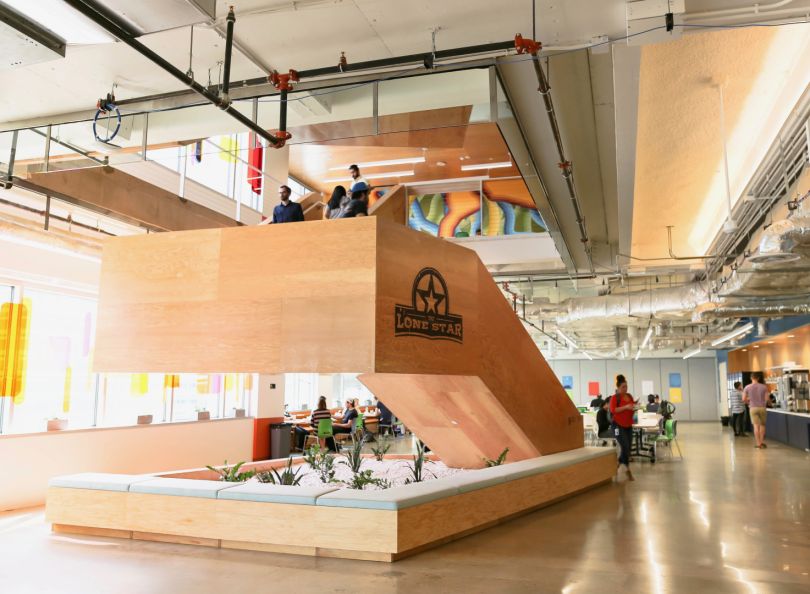 IMAGE VIA FACEBOOK

Locations: Alterra Parkway and Rock Rose Boulevard, The Domain Harris Ridge Road and E. Parmer Lane, Parmer Innovation Center
The state of Facebook's Austin plans are currently a little blurry, but here's what we do know: They first opened an Austin office in 2010 at 300 W. 6th Street with less than 10 employees. Today, more than 700 work out of that building. In September 2017, the social media giant announced plans to lease 10 floors of a new building on Nueces Street called Third + Shoal, with room for up to 1,500 additional employees. But that building, with Facebook as its largest tenant, is now up for sale, indicating the Menlo Park company may have passed on the lease.
Now, it seems Facebook has leased all 17 floors of the Domain 12 tower, a building where construction is likely to be finished by the end of 2019 and which is located a short walk away from Domain 8, where Facebook currently leases space. Additionally, the company also recently signed on for 32,000 square feet of the Parmer Innovation Center in North Austin. That's a lot of extra space, Mark.
Facebook is Hiring | View 20 Jobs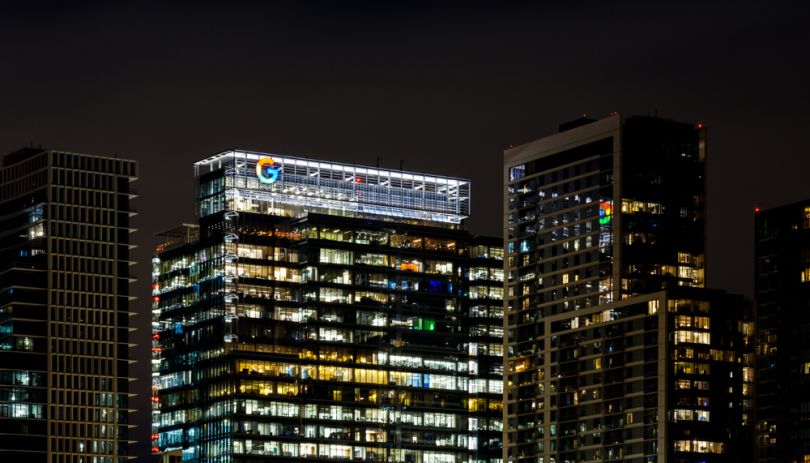 IMAGE VIA SHUTTERSTOCK

Locations: 601 W. 2nd St., 1201 W. 5th St
Google opened its first Austin office in 2007 with about 100 employees. Ten years later, its local workforce moved into a brand new high rise at 500 W. 2nd St., to make room for its now 800ish employees. Flash forward to this February, reports began circling that the company has leased all 35 floors of the soon-to-be-finished tower called Block 185, just a block over from its existing office.
And now, as recently as last week, the Austin American Statesman said Google has leased all seven stories of a new building on the Eastside, located at 1201 W. 5th St., with room for close to 750 employees. The Google takeover is coming, y'all.
Google is Hiring | View 20 Jobs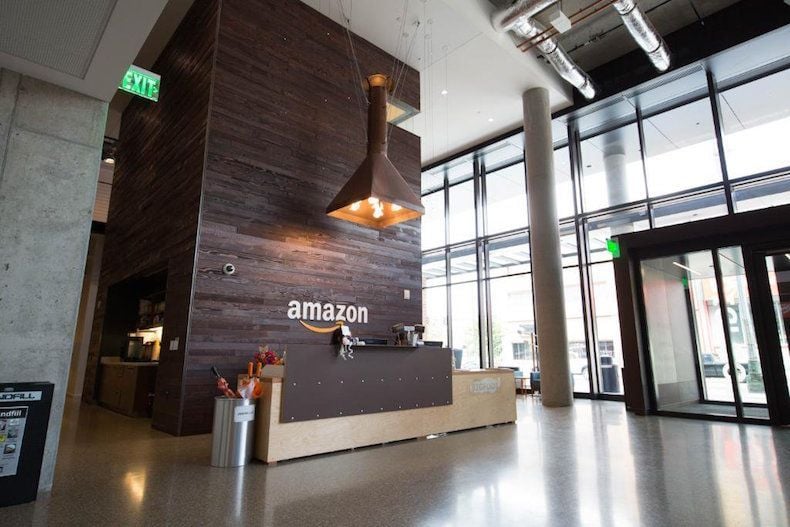 IMAGE VIA AMAZON

Location: 11815 Alterra Parkway, The Domain
When Queens said, "We'll pass" on Amazon's plans to bring 25,000 jobs to the area as part of its HQ2 setup, the company basically said "fine, we'll just take those jobs and sprinkle them throughout America." It looks like Austin will be on the receiving end of an Amazon sprinkling following the recent news that the company has leased almost half of the Domain 10 tower, a 15-story high rise still under construction.
Currently, Amazon occupies offices in the Domain 7 and 8 towers, with more than 900 employees. The Seattle-based company first opened its Austin doors in 2015.
Amazon is Hiring | View 20 Jobs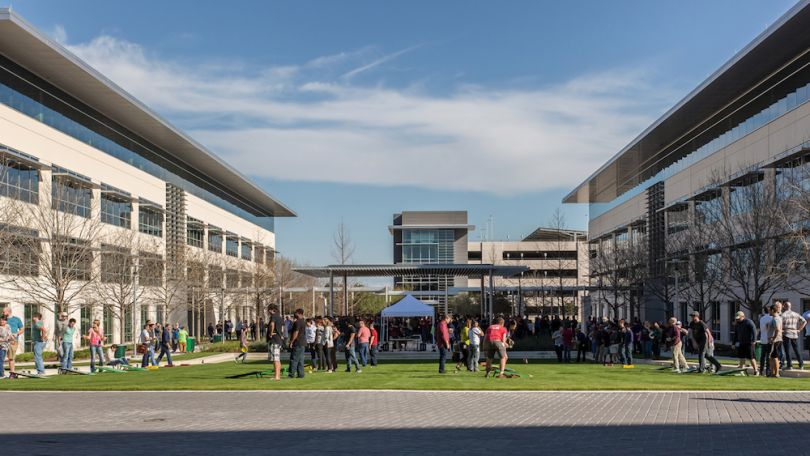 IMAGE VIA APPLE

Location: W. Parmer Lane, Robinson Ranch
Seemingly out of nowhere — meaning, the company didn't launch a nation-wide, year-long campaign — Apple announced in the middle of a December night a mega expansion in Austin that will take three years to complete and cost about $1 billion. The new campus will have room for up to 15,000 new employees and sit on 133 acres of land in Robinson Ranch, which is about a mile down the road from its existing North Austin office at 5501 W. Parmer Lane.
Apple currently employs about 7,000 locals spanning its Parmer Lane campus, other offices, retail locations and contracted work. Its Austin corporate office is the company's second-largest office after its headquarters in Cupertino, CA. Soon your neighbor could be Tim Cook.
Apple is Hiring | View 20 Jobs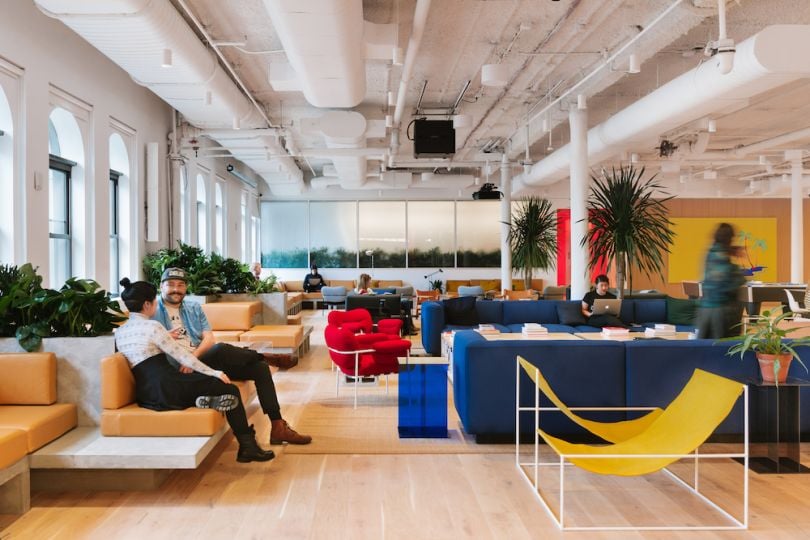 IMAGE PROVIDED BY WEWORK

Locations: Red River and Cesar Chavez, 316 West 12th Street, Westview Building
The We Company, formerly known as WeWork, continues to deepen its footprint in Austin. The company opened its first local coworking location in 2015 at 600 Congress. Now, The We Company operates five, with its most recent location taking over three floors of the newly renovated Westview building near the Capitol.
Last month, it was revealed that The We Company also purchased a chunk of downtown. The site, at Red River and East Cesar Chavez streets, covers 4.7 acres. Plans have not been released on what it will be used for, but it could be for residential real estate as part of its new branch WeLive or one of its new schools. While not technically a tech company, The We Company's tech-focused client base means we'll be seeing more startups in the area. WeWait.
Get Alerted for Jobs from WeWork