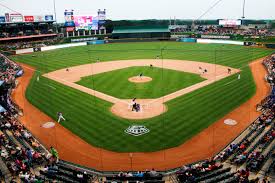 Today is opening day for Round Rock Express, Central Texas' minor league baseball team. The Astros Triple-A affiliate team plays every week for the next 4 months at the Dell Diamond.
The Dell Diamond has a great family-friendly atmosphere with food and games for all ages. Every night at the fields has baseball & more - a fun event for the whole family. There is even a pool that can be rented out for parties! When planning your night at the Diamond, lawn seats are always a favorite because kids can run around during the game.
Throughout the summer, the team will even host event nights - like 80's night or bring your dog to the field night. Check out the link below to see game schedules and prices.
Our brokers love taking their families out to celebrate their hometown team. We love baseball - check out some great pictures of one of our broker's children playing little league baseball.
https://www.milb.com/round-rock