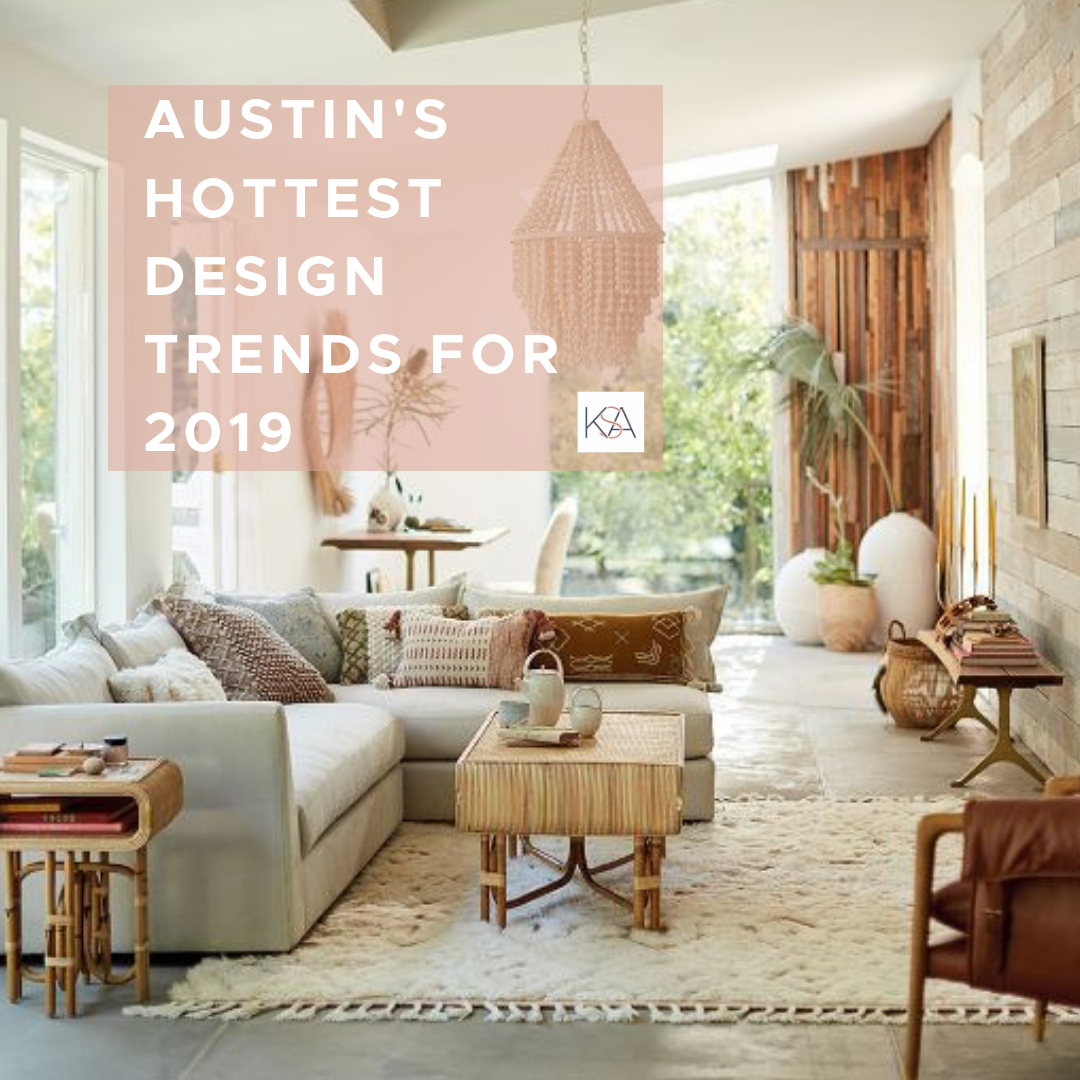 Austin is growing at the speed of light and DESIGN is a big part of this expanding community. If you are moving into a new home or ready for a mini home-makeover, here are KSA's picks for AUSTIN'S TOP 10 HOME DESIGN TRENDS. From where to buy cool household wares, to learning tips from our favorite reality-tv power couple, KSA KNOWS where to go to find out what's HOT.
1. SUSTAINABLE PRODUCTS
CONSCIOUS DESIGN is a big part of Austin's booming real estate. Choose items that provide environmental, social and economic benefits. If you have something that works, reuse it in a new way. Make any home look fabulous by introducing A few modern pieces to a room full of classics.
Here Joanna Gaines added a simple modern chandelier to bring a fresh look to this dining room. Double down on your environmental impact by purchasing an almost new light fixture from Austin's Habitat for Humanity ReStore.

We reduce, reuse and recycle anything and everything. Consider refinishing or reupholstering your favorite furniture instead of buying new. Hang on to timeless pieces and make a room your own with well thought-out accessories. If your grandmother's dining table holds a special place in your heart, keep it. This eclectic kitchen is a marriage of old and new furniture. You are unique, your home should be too.
2. BRING THE OUTSIDE IN
Fresh foliage is good for your health, a great source of color, and an inexpensive way to fill up empty spaces. Add an organic edge by bringing your garden indoors. Fresh herbs will make your home smell divine and your cooking top notch.
With elements of iron and terra-cotta, this herb garden is as much a work of art as it is functional. There is nothing better than cooking with fresh kitchen herbs cut from a garden within arms reach. Plus, it's gorgeous. Check out more planters from Magnolia.com.

Complete your design with BOUQUETS from your local farmer's market. Flowers lift the mood and relieve stress, plus they make any party look expensive. Find a list of farmers markets at Edible Austin.
3. ENTERTAIN IN STYLE
Want a swanky bistro feel for your Friday night soiree? Head to the home store for a new table service. Liven up any fiesta with beautiful dinnerware and crisp white linens like these from Anthropologie.
Anthropologie launched these gorgeous party wares and we are in love. They definitely have a distinct handmade touch—a trend we've noticed beyond this brand. Look for rustic cutting boards and stoneware bowls and plates in organic, irregular shapes. Anthro's rustic-chic style adds a jolt of personality to any room.
It's finally time to use the china your great aunt gave you. Set your guests up for an elevated experience with a tablescape of vintage china and glassware. Make food look pretty with mix matched patterns. Find this one at Etsy.com.
4. REVEAL YOUR SOFTER SIDE.
Invite guests to stick around by introducing cozy fabrics and soft textures to your space. Velvety smooth couches have long been a design-do, and this year COLOR reigns supreme. Anthropologie features gorgeous jewel-toned sofas that add a funky-classic touch to your living space. This Grace-Serpentine Sofa from Anthro knocks it out of the park.
For the complete package, choose comfy throw pillows and an organic rug like this cow-hide beauty from Four Hands Home.
5. Renaissance Austin
Beautiful and expressive artwork is back. Reveal your creative side by decorating with fantastic oil paintings, ornate frames and wallpaper. Make it personal by introducing your favorite bright patterns, bold designs and colorful originals.
Create a gallery wall and take it to the next level by adding large statement pieces. Don't be afraid to mix patterns, colors and textures.

IF you aren't into acrylics, try a wall of vintage mirrors. Sift through thrifty re-sale shops or slip into Austin's Collectic Home for something new. In addition to making the space feel more spacious, mirrors add dimension to any room. When it comes to art, the sky is the limit.
6. BUY HANDMADE
Items made by hand from sustainable products are all the rage. Look for materials like jute, wool, clay and rice paper to incorporate into your home. Organic materials make a home feel more in touch with the Earth and connected to the environment.
This gorgeous artwork is handmade from reclaimed wood. Find this and thousands of other designs at Etsy.com.
This hand-made bench is from Austin's Nadeau furniture. They offer budget friendly and impeccably hand made items from all over the world.
7. MODERN BOHEMIAN
Mid-century modern meets bohemian chic. Bright colorful patterns with a mix of modern clean lines and vintage patterns are everywhere this season.
8. LIGHT WOOD FLOORS
Light woods like birch and light oak and coming back to center stage. These floors reflect light and compliment an open air concept perfectly.
9. BOLD WALL COLOR
Last year we were all about gray, but this year the sun is coming out again. Feel free to enhance your home with bold paint colors this season.
10. GET COMFORTABLE
Comfy sofas, warm inviting rugs, cushiony chairs, and blankets you'll never want to put away, this year comfort is HOT. If it's not snuggle-worthy, keep moving.
Sign up to see more of KSA's top design trends for 2019.